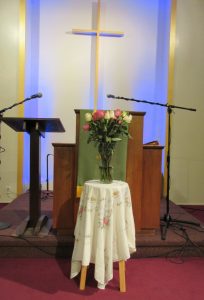 Welcome everyone came to worship on Feb 25.
Here is the summary of the message on Feb 25: The test of Christ's love – Luke 10:35-37
On Feb 25, we continue of series of RCAC Core Values.  We are on the second core value – love.  Love God and love the others as yourself.  Essentially, these two things are one, because "If we cannot love the brothers and sisters we see, how can we love God who we cannot see" paraphrase from 1 John 4:20.
"Who is my neighbor?" The teacher of the law asked.  Jesus answered that if you have the heart of God, with love and compassion, you will see the neighbor God has prepared for you to love and care.
From this passage in Luke, we see:
God loves everyone. We ought to do that same. We should be give "label" to people and instead see people as God's creation, bearing God's image. When we serve and love the others, we are expressing our love to God
Love means action – "Dear children, let us not love with words or speech but with actions and in truth" 1 John 3:18
Christ shows us what love is. His standard is always higher than our standard. His way is always higher than our way.  We can only depend on Him and learn from Him what love is.
Jesus requires us to
Love God
Love our brothers and our sisters
Love our enemy
Conclusion:
The Epistle of Hebrews gives us a very good reminder how loving God and loving others are connected:
"13:15 Through Jesus, therefore, let us continually offer to God a sacrifice of praise—the fruit of lips that openly profess his name. 16 And do not forget to do good and to share with others, for with such sacrifices God is pleased."  Hebrews 13:15-16
March
We would like to encourage brothers and sisters to take Holy Communion together in the sanctuary.  We will only serve Holy Communion in the sanctuary starting in March
Sunday March 4 is the first Sunday of the month. We have potluck lunch. Please bring your favorite dish to share
Choir Practice for Good Friday and Easter will be held after lunch Sunday
242 Fellowship this Sunday will be held at Shelton and Gail's residence @ 5:00pm
Mission Conference will be held next week (March 7-11).  We have Missionary coming to share with us.  Here are the events:
Wednesday Morning Sharing: 10:00am at church.
Friday night sharing: 7:00pm potluck dinner, 8:00pm sharing
Saturday family group sharing: TBD
Sunday: Combined Sunday School at 10:00am
The Missionary will deliver a message during worship.
Please reserve your time to come. Listen to what God is doing in the field and pray that we can participate in the Kingdom's ministry
Daylight Saving will start on March 11 (Sunday)
All-In: Youth and Children ministry training will be held at the Grove March 17 Saturday 9:00am to 3:00pm.  Pastor encourages all Youth leader and teachers of Children ministry to attend this training.  Please let Pastor know if you can go.
Good Friday service will be held March 30 7:00pm at Church
April
Easter Service will be on April 1. We will have baptism on Easter, if you would like to get baptized or become a member of RCAC, please contact Pastor
Special Announcements
For the fellowship luncheon after Sunday worship: RCAC subsides the lunch and would like to see people staying for fellowship.  We are seeing a deficit continuously.  I would like to remind brothers and sisters to contribute to the luncheon ministry.  This is our responsibility.