Welcome everyone came to worship on 2/18. Welcome Juno and Lavinia (Della's friends).
Praise the LORD for the message delivered by Rev. David Gilmore, Senior Pastor of NorthGate Community Church, Cathedral City, titled: "The Righteous Lives by Faith" – Genesis 22:1-19
Four steps for us to receive blessings from the LORD
God gives us test to reveal to us where our heart is. What do we treasure the most? Are we willing to give it up for Him?
Obey God and His command is the requirement to receive blessings
Wait on God. He has his timing
Trust that God will provide
Reference Scriptures:
James 2:21-26
Hebrews 11:6
May God increase our faith that we will trust in Him and obey him. Then we will receive His blessings.
++++++++++++++++++++++++++++++++++++++++++++++++++++++++++++++++++
Choir:

For our Easter season, we'll be revisiting some thoughtful & contemplative hymns for our Good Friday and Easter services.
Good Friday service is Friday, March 30th at 7:00 pm   (Choir: "Beneath the Cross – Medley")
Easter service is Sunday, April 1st 10:00-Noon (Choir: "I Will Glory in the Cross")
Rehearsals will begin this Sunday February 25th.

  It will be a short rehearsal to get your music and intro the songs. 
Looking forward to seeing you Sunday!
February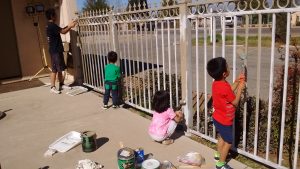 We give thanks for those who came back for RCAC family time: Great time of fellowship and we cleaned up and decorated for the Chinese New Year Celebration
Praise the LORD for our Chinese New Year Celebration. We saw many new faces. I pray that the Gospel presentation and our lively presentation would give a positive impact to our friends that they will be interested to know more about Christ and our Church.  Thanks very much for Pastor Tin coming and his presentations. It is truly one of a kind. Praise the LORD for his creativity and the gift of evangelism
March
Mission Conference will be held March 7-11
Daylight Saving will start on March 11 (Sunday)
March 17: All-In Youth and Children ministry training will be held in the Grove Community Church 9:00am to 3:00pm.  It is a great training and refreshing moment for Youth leader and Children ministry volunteer.  Please let pastor know if you would like to attend.
Good Friday service will be held March 30 7:00pm at Church
April
Easter Service will be on April 1. We will have baptism on Easter, if you would like to get baptized or become a member of RCAC, please contact Pastor
Special Announcements
We would like to encourage brothers and sisters to take Holy Communion together in the sanctuary.  We will only serve Holy Communion in the sanctuary starting in March
For the fellowship luncheon after Sunday worship: RCAC subsides the lunch and would like to see people staying for fellowship.  We are seeing a deficit continuously.  I would like to remind brothers and sisters to contribute to the luncheon ministry.  This is our responsibility.