Welcome everyone coming to worship Sunday. Welcome Bert, Ruth and family from Indian Hill came to worship with us Sunday. Welcome Ellie Wang and her friends (they are Lily Ivy's friends) from Rowland Heights visited us (they are first time to a church!)
Here are the highlights of the message on 8/27 Understand yourself – 1 Corinthians 3:18-23
John Calvin started his book Institute of Christian Religion that the true wisdom is to know God and to know ourselves.  There is a mutual tie. If you what to know yourself in an authentic perspective, know God first!
To understand yourself is to:
Understand your weakness
Understand your identity in Christ
Understand your role in the Kingdom
Our true identity in Christ is:
1:2 to those sanctified in Christ Jesus and called to be his holy people, together with all those everywhere who call on the name of our Lord Jesus Christ their Lord and ours
Our Role:
"We were designed to know, serve and love God supremely  and when we are faithful to that design, we flourish"
– Tim Keller Wisdom  August 24, 2017
++++++++++++++++++++++++++++++++++++++++++++++++++++++++++++++++++++++++++++++++++++
We are full speed ahead in our construction of the block wall. When you come to church, please slow down and be very careful. Park near the basketball.  The construction will be last for about one to two months.  Please be patience on any inconvenience caused.  Also, continue to pray for the building project process. It is just the first step. We need you participation and prayer
This Sunday 9/3 is the first Sunday of Sept. We will have potluck lunch. Please bring your favorite food to share!
Thanks Bro. Peter Li for hosting the Mandarin Fellowship last Saturday. Praise the LORD we had a great time of sharing and prayer.
Family Fellowship will be held at Mark & Diana's house this Saturday at 5pm.  Dinner will be potluck.
242 (English) Fellowship will meet this Sunday 5:00 pm at David and Miko Wang's. Dinner is potluck. Everyone is welcome to attend
Many have seen the devastating reports from Houston. If you are moved to help, CAMA is partnering with the Southwestern District leadership to coordinate and provide relief to those in the region. Here is the link to learn how you can get involved and help click here or give now.
We are in the process of forming the Nominating Committee now.  If the congregation would like to nominate any member, please get the written consensus from the individual and find signature of two supporting members.  Give it to Pastor, Ed Lu or Stephanie Zhao before Sept 3. We will have an election on Sept 10 for the formation of the nomination committee.
We are planning for a special meeting on Sept 30 (Saturday) to celebrate the Mid-Autumn Festival and outreach to the incoming Chinese students. Alison bought some lanterns for children.  It is the simple DIY type. Children will enjoy making it.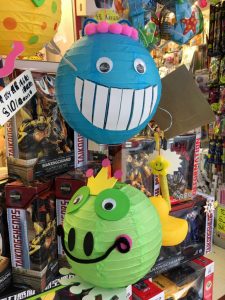 The theme of RCAC's 2017 biennial retreat is "Bear Fruit Now". It will be held at Thousand Pines Retreat Center Oct 27th to Oct 29th. The early bird registration deadline is September 3rd. Early bird registration cost will be $100/adult, $90/child age 3-11. A day camper participation option will be available for $50/person. Please sign up by completing and returning the registration form to Shelton Yuen or David Wang. You can also register online at  app.campdoc.com/register/tpcc/rcac1027 Please see Shelton or David for more information.
August 31, 2017