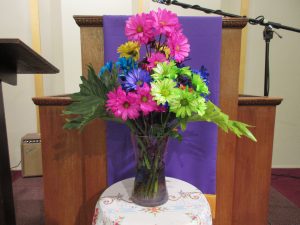 Welcome everyone who came to worship March 25.
March 25 is Palm Sunday.  We commemorate our LORD Jesus entered in Jerusalem and prepared His way to the cross.  We welcome our LORD Jesus to enter into His Church and be with us when we worship.
Here are the highlights of the message: The Word of God will not return empty – Isaiah 55
God's Word Alive and Active because:
The Spirit inspires (the authors to write them down)
The Spirit illuminates (the reader when he/she humbly read the Word)
Isaiah 55 tells us about "the Power of God's Word"
Give Life  v1-2
Lead us to Salvation  v3-6
Reveal God's Way v7-8
Fulfill God's plan  v10-v13
What should we respond?
Come v1
Seek  v6-7
Listen v2-3
++++++++++++++++++++++++++++++++++++++++++++++++++++++++++++++++++++++++++++++++++
March
Good Friday service will be held March 30 7:00pm at Church
April
April 1 Easter Sunday we will have our early Easter Service at 8:00am. Then breakfast at 9:00.  The Easter baptismal service will start at 10:00 am. There will be no Sunday school and no lunch on Easter.
Spring Cleanup is scheduled to April 21 (Saturday).  If you think of any project, please let Elder Ed Ng know.
We would like to encourage brothers and sisters to take Holy Communion together in the sanctuary.  We will only serve Holy Communion in the sanctuary
May
We will organize a Church outing on May 21 (More information will come)