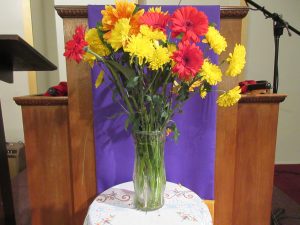 Welcome James from Moreno Valley visited us Sunday
Here is the highlights of the message on 3/18 Children of Light – John 12:35-36
35 Then Jesus told them, "You are going to have the light just a little while longer. Walk while you have the light, before darkness overtakes you. Whoever walks in the dark does not know where they are going. 36 Believe in the light while you have the light, so that you may become children of light." When he had finished speaking, Jesus left and hid himself from them.
Walk in the Light
Believe in the Light
Become the Children of Light
Some practical ways on how to become the Children of Light
Obedience and good work
Ask Him to renew our thought
Listen well, Surrender to His guidance
Live out the Word
Obedience and good work
++++++++++++++++++++++++++++++++++++++++++++++++++++++++++++++++++++++++++++++++++
March
We would like to encourage brothers and sisters to take Holy Communion together in the sanctuary.  We will only serve Holy Communion in the sanctuary starting March
Good Friday service will be held March 30 7:00pm at Church
April
April 1 Easter Sunday we will have our early Easter Service at 8:00am. Then breakfast at 9:00.  The Easter baptismal service will start at 10:00 am. There will be no Sunday school and no lunch on Easter.
Spring Cleanup is scheduled to April 21 (Saturday).  If you think of any project, please let Elder Ed Ng know.
May
We will organize a Church outing on May 21 (More information will come)