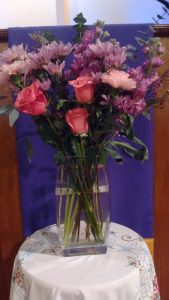 Welcome everyone came to worship on March 11, especially welcome our IW coming to deliver the message and share with us Peace Making principles
Here is the highlights of the message on 3/11 Peculiar People 1 Peter 2:4-12
Sometimes, we just want to be the same as the others, so that we can be accepted. But to be a Christian, we are different.  As Christ Himself was rejected by the people, we may not be accepted by them. On the other hand, we are accepted by God.
4 As you come to him, the living Stone—rejected by humans but chosen by God and precious to him— 5 you also, like living stones, are being built into a spiritual house[a] to be a holy priesthood, offering spiritual sacrifices acceptable to God through Jesus Christ.  1 Peter 2:4-5
Brothers and sisters, whether we are here in Riverside or we are overseas, we live a holy life style, we speak in truth and peace that we can proclaim God's grace to the world.
9 But you are a chosen people, a royal priesthood, a holy nation, God's special possession, that you may declare the praises of him who called you out of darkness into his wonderful light.  1 Peter 2:9
++++++++++++++++++++++++++++++++++++++++++++++++++++++++++++++++++++++++++++++++++
March
We would like to encourage brothers and sisters to take Holy Communion together in the sanctuary.  We will only serve Holy Communion in the sanctuary starting March
March 17 (Saturday)  All-In: Youth and Children ministry training will be held at the Grove March 17 Saturday 9:00am to 3:00pm.  Pastor encourages all Youth leader and teachers of Children ministry to attend this training.  Please let Pastor know if you can go.
March 17 (Saturday)  RCAC Family time will be held this Saturday 9:00am at church. Please come for a good time of fellowship and help to make our church nice and clean
March 17 (Saturday)   David &Miko will be hosting dumpling night at their residence this coming Saturday 3/17.  @4:30pm.  We will make dumplings together and hang out.  Please bring any drinks, snacks, fruits, or games.    See you there!
March 18 (Sunday)   242 Fellowship will be held at David and Miko's home. 5:00 pm Potluck dinner. Everyone is welcome
March 18 (Sunday)  Choir Practice for Good Friday and Easter will be held after lunch Sunday
Good Friday service will be held March 30 7:00pm at Church
April
Easter Service will be on April 1. We will have baptism on Easter, if you would like to get baptized or become a member of RCAC, please contact Pastor
Special Announcements
For the fellowship luncheon after Sunday worship: RCAC subsides the lunch and would like to see people staying for fellowship.  We are seeing a deficit continuously.  I would like to remind brothers and sisters to contribute to the luncheon ministry.  This is our responsibility.