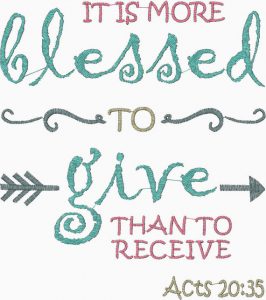 In his farewell speech to the elders of Ephesus, Apostle Paul taught them:
35 In everything I did, I showed you that by this kind of hard work we must help the weak, remembering the words the Lord Jesus himself said: 'It is more blessed to give than to receive.' "
Somewhere, our LORD said: it is more blessed to give than to receive. We receive blessings so that we can give.  See, there is a process of transformation here.   People come to Christ (church) looking for blessing, there is nothing wrong about it. That is the beginning, after we taste the goodness of the LORD, we should be like a channel of God's blessings, like one of the hymns we sing, to share what we have.  The LORD knows our nature: we need to first receive before we can give.  The difficulties would be not holding on what we have and share, like what we teach our children.
Let us be generous to the others.
When I talk about generous, it is not just material, it is also has a strong spiritual sense.
Do you give your time and effort in supporting the weak? Do you pray for people, encourage them?  Do you frequently forgive people?  There are the blessings you cannot buy with silver or gold.
Prayer
Dear LORD Jesus, remind us on the blessings we received and help us to give generously.

May 19, 2017