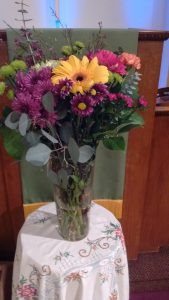 Welcome everyone came to worship on 2/11.
Thanks. Bro. Ralm Jung for the message. The outline of the message on Sunday 2/11 –  I am a runner, 1 Corinthians 9:24-27  Hebrews 12:1-3
I Corinthians 9.24-27: Race to win
How I started running–No natural talent
—Suffering
—Why I did it
Natural talent—academics
—Loved to learn
Christian foundation—learning
—Christian Reformed Church & Woodcrest Christian
—Foundation in the Bible (study & prepare)
—Simplicity, develop a relationship with God
—Love with Heart, Soul, Mind (pastor Chu)
Hebrews 12.1-3: Run with Endurance
My story
—Stopped running for 6 years (Bike/BK/RqB)
—Bill Vaughn (coaching)
—LA Marathon 1994 (racing)
Endurance
—Through coaching, I learned to study
—Through the marathon, I learned to prepare
Christian endurance
—Learn to study your craft—studying the gospel
—Learn to prepare—spreading the gospel
—We are children of God—love who you are
I am a runner; I run for God
==================================================================
February
2/17 9:00am RCAC family time. Please come to join us in fellowship and help us to cleanup and decorate for the Chinese New Year Celebration in the evening.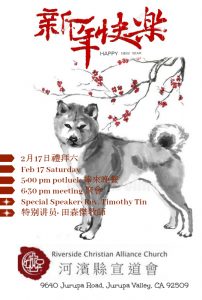 2/17 Chinese New Year celebration 5:00pm potluck and 6:30pm meeting.  Please review your time and bring your friends to come.
2/18  242 Fellowship will be held at Chuck and Betty's residence 5:00pm
Please continue to sign up for offering flowers for Sunday worship.  If you have any questions, or if you are interested in helping with flower arrangement, please contact Brother Lawrence Tai.  He can be reached by email at LTai99@hotmail.com"
March
Mission Conference will be held March 7-11
Daylight Saving will start on March 11 (Sunday)
Good Friday service will be held March 30 7:00pm at Church
April
Easter Service will be on April 1. We will have baptism on Easter, if you would like to get baptized or become a member of RCAC, please contact Pastor