Dear Brothers and Sisters:
Welcome Rev. Calvin Lai and Mrs. Lai visited us and praise the LORD for the message delivered by Rev. Lai.  Welcome Esther and her friends from Taiwan visited us Sunday.
Summary of the message on 1/15: Motive of Ministry – 2 Corinthians 5:14-15
Christ's love constraining us and only that will keep us faithful in every situation.  Our motive of ministry is "our response to the great love of our LORD"
The three steps of preparing disciples for ministry
Jesus prayed for his disciples that they would have the love of the father in them (John 17:26)
Jesus asked Peter three times that if Peter loves Him (John 21:15-17)
Jesus gave the great commission to his disciple (Matthew 28:18-20)
Great quote from the message:  "God's work, do it according God's way, will never lack God's supply" -Hudson Taylor
May we all sense the deep love of God and respond in action!
++++++++++++++++++++++++++++++++++++++++++++++++++++++++++++++++++++++++++++++
Because of the rain, we will postpone our playground cleanup and mulch setup. We will let you know when we do that.
However, we still have our regular church cleanup this Saturday Jan 21.  Please come and help.
Chinese New Year Celebration will be held Jan 28, Saturday 5:00 pm potluck dinner and 6:45 pm meeting. Please reserve your time to come. Bring your favorite dish to celebrate the year of rooster!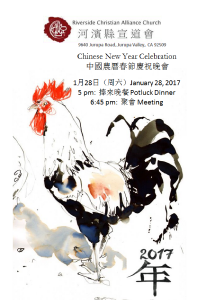 Please sign up for offering flower for Sunday worship. The signup sheet for the floral ministry is posted in the lobby. Notice that there is an option of bringing your own flower.  Otherwise, the floral ministry team will prepare the flower.
January 18, 2017